What Is a Boilerplate? Definition, Tips, and Examples
People love to overlook the boilerplate in a press release, but little do they know that it's crucial PR material[1] for showing authority as a company.
Although short in length, boilerplates comprise of many important details that make them both engaging and informative. Not only are you competing for the attention of journalists with a boilerplate, but also competing with other companies for more consumers.
Boilerplate definition
In public relations, a boilerplate (also known as an "about us" statement) is a short, standardized paragraph at the end of a press release that provides journalists with a high-level background on your company.
Although short in length, boilerplates comprise of many important details that make them both engaging and informative. Not only are you competing for the attention of journalists with a boilerplate, but also competing with other companies for more consumers.
In this article, we're going to cover what a boilerplate really is, tips on how to make one, and best in class examples.
Yes, a boilerplate is a paragraph at the end of a press release as previously mentioned. But it also tells the reader who you are and remains consistent for every press release, unless there are minor changes with company details.
If you think of your boilerplate as just another box to check off, you risk losing the engagement of your reader. When a boilerplate is lackluster, the reader will not be interested in the company, or worse have a bad impression of your company.
In other words, the boilerplate is how to make journalists want to cover your press release. Just like a media kit[2] attracts partnerships from marketers and an EPK[3] attracts music industry professionals.
Where does the boilerplate go? 
Understanding the location of a boilerplate within a press release helps you visualize where you'll place it once completed. When all of the below pieces work together in a clear way, a press release becomes more effective.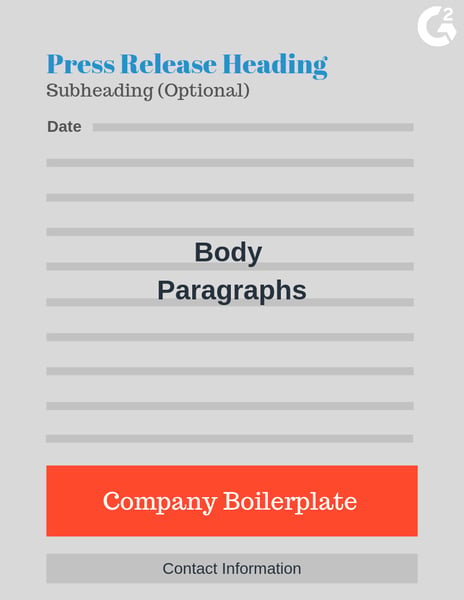 And if you need a deeper dive into how to write a press release[4], we have you covered.
Purpose of a boilerplate
So, you know what a boilerplate is, but you may be wondering if these few sentences at the end of a press release really matter?
They do matter. They matter to your company. They matter to journalists. They matter to consumers. And boilerplates should matter to you.
Now I understand that a boilerplate isn't going to solve world hunger or cure all diseases. But in the PR world, they are important.
Journalists have an endless influx of press releases gracing their desks. Boilerplates provide consistency for journalists when they are looking to connect dots between stories. If they recognize your boilerplate and remember a past story about your company, they are more likely to pay attention to you. And when that happens, it means you have authority as a brand and with more authority comes more coverage. Ta-da!
Tips on creating a boilerplate
Before starting your boilerplate, keep in mind these seven tips throughout your process.
Gather all current statistics and data about your company before writing
Nail down your boilerplate before you get going on press releases
Balance your objective with your mission
Make your company sound like it's making waves in its industry
Market your products
Be concise and avoid jargon
End with a call-to-action (CTA)
Bonus tip: Read more about making your press release a story[5] for better engagement
Now that these tips are top of mind, we'll dive into what elements make up a boilerplate.
What to include?
There are eight essential elements of a boilerplate, and if you can cover all of them in the small space given, then you're going to be a PR rockstar.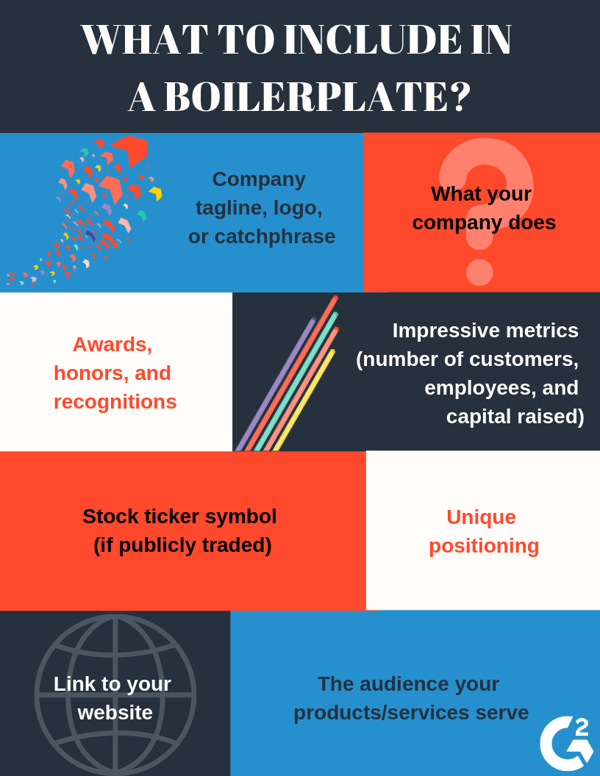 Company tagline, logo, or catchphrase
These elements are part of your brand identity, and if advertisers have done a good job, your tagline, logo, or catchphrase will be the most recognized part of your brand.
Think about it. If you're reading hundreds of press releases a day and one comes across your desk that says "Taste the Rainbow," you won't need to read any further. You know it's Skittles and this familiarity will increase the chance of coverage.
What your company does
State what you do so that someone who has no idea who you are, and has no background on the details of your industry, can say, "Oh, that makes sense." Don't make this convoluted, or difficult to understand.
If the journalist doesn't know what you do, then how do you expect them to tell others about you?
Awards, honors, and recognitions
A story about someone being the first to accomplish something is always interesting. Are you ranked as one of the best places to work? Did you get an award for most effective software? Have you grown exponentially year-over-year? Tell the reader about it in your boilerplate.
Impressive metrics
Similar to awards, honors, and recognitions, impressive metrics make for an interesting story. If you're a startup, include your latest round of funding. If you are a successful company of 12,000 people, then show it off. This is your time to brag about how great your company is and back your claims with numbers.
Stock ticker symbol
Pretty straightforward, but if your company is publicly traded, include it at the beginning of your boilerplate.
Unique positioning
This is your opportunity to tell the reader how you are different from the competition. You don't want to leave too many things up for interpretation. Determine what makes your company special and different from all of the other people doing similar things.
The audience your products/services serve
Who likes you and what do you do for them? If you're Pampers, your audience is caretakers and your products are diapers and wipes for newborns, babies, and toddlers.
Link to your website
Most of the time you can only provide one website in a press release, so choose the page that aligns with your marketing objectives. Companies drive people to their homepage for more information, and this method is a great way to do it.
Boilerplate examples
Explore the below boilerplates from some of the most recognized brands.
lululemon athletica inc.
lululemon athletica inc.[6] (NASDAQ:LULU) is a healthy lifestyle inspired athletic apparel company for yoga, running, training, and most other sweaty pursuits, creating transformational products and experiences which enable people to live a life they love. Setting the bar in technical fabrics and functional designs, lululemon works with yogis and athletes in local communities for continuous research and product feedback. For more information, visit WWW.LULULEMON.COM.
Netflix
Netflix [7]is the world's leading internet entertainment service with 139 million paid memberships in over 190 countries enjoying TV series, documentaries and feature films across a wide variety of genres and languages. Members can watch as much as they want, anytime, anywhere, on any internet-connected screen. Members can play, pause and resume watching, all without commercials or commitments.
The Goldman Sachs Group, Inc.
The Goldman Sachs Group, Inc. [8]is a leading global investment banking, securities and investment management firm that provides a wide range of financial services to a substantial and diversified client base that includes corporations, financial institutions, governments and individuals. Founded in 1869, the firm is headquartered in New York and maintains offices in all major financial centers around the world.
NIKE, Inc.
NIKE, Inc.,[9] based near Beaverton, Oregon, is the world's leading designer, marketer and distributor of authentic athletic footwear, apparel, equipment and accessories for a wide variety of sports and fitness activities. Wholly-owned NIKE, Inc. subsidiary brands include Converse, which designs, markets and distributes athletic lifestyle footwear, apparel and accessories; and Hurley, which designs, markets and distributes surf and youth lifestyle footwear, apparel and accessories. For more information, NIKE, Inc.'s earnings releases and other financial information are available on the Internet at http://investors.NIKE.com. Individuals can also visit http://news.NIKE.com and follow @NIKE.
Furbo Dog Camera
And for those start-ups out there looking for an example, check this one out.
Furbo[10] is the world's first treat-tossing camera designed just for dogs. It lets you see, talk and toss treats to your dog when you're not home. Launched in 2016, Furbo Dog Camera is the best-selling dog camera on Amazon in five countries. Furbo is a property of Tomofun, a pet technology company dedicated to bringing joy and innovation to every pet lover in the world. Tomofun is headquartered in Bellevue, Wash. with offices in Taiwan, Japan and Vancouver. For more information, visit www.furbo.com.
Now it's your turn
You now know the ins and out of a boilerplate. From the format of a boilerplate to boilerplate examples, you have all the tools you need to write the perfect one for your company.
And if you're looking for more public relations guidance, check out press release tips[11] from PR pros.
Source URL: Read More
The public content above was dynamically discovered – by graded relevancy to this site's keyword domain name. Such discovery was by systematic attempts to filter for "Creative Commons" re-use licensing and/or by Press Release distributions. "Source URL" states the content's owner and/or publisher. When possible, this site references the content above to generate its value-add, the dynamic sentimental analysis below, which allows us to research global sentiments across a multitude of topics related to this site's specific keyword domain name. Additionally, when possible, this site references the content above to provide on-demand (multilingual) translations and/or to power its "Read Article to Me" feature, which reads the content aloud to visitors. Where applicable, this site also auto-generates a "References" section, which appends the content above by listing all mentioned links. Views expressed in the content above are solely those of the author(s). We do not endorse, offer to sell, promote, recommend, or, otherwise, make any statement about the content above. We reference the content above for your "reading" entertainment purposes only. Review "DMCA & Terms", at the bottom of this site, for terms of your access and use as well as for applicable DMCA take-down request.
Acquire this Domain
You can acquire this site's domain name! We have nurtured its online marketing value by systematically curating this site by the domain's relevant keywords. Explore our content network – you can advertise on each or rent vs. buy the domain. Buy@TLDtraders.com | Skype: TLDtraders | +1 (475) BUY-NAME (289 – 6263). Thousands search by this site's exact keyword domain name! Most are sent here because search engines often love the keyword. This domain can be your 24/7 lead generator! If you own it, you could capture a large amount of online traffic for your niche. Stop wasting money on ads. Instead, buy this domain to gain a long-term marketing asset. If you can't afford to buy then you can rent the domain.
About Us
We are Internet Investors, Developers, and Franchisers – operating a content network of several thousand sites while federating 100+ eCommerce and SaaS startups. With our proprietary "inverted incubation" model, we leverage a portfolio of $100M in valued domains to impact online trends, traffic, and transactions. We use robotic process automation, machine learning, and other proprietary approaches to power our content network. Contact us to learn how we can help you with your online marketing and/or site maintenance.